I wanted a simple crystal set that would highlight Mike Peebles' rock stand ('cause I really like it ) and one that could serve as a nucleus for a project radio. This little "loop stick" radio seems to be just the ticket.
0.5"x4" Amidon ferrite-61 rod,
10t cw #24 magnet wire for the antenna coupling coil,
55t cw 165/46 litz (about 230 uH),
10-410 pf Jackson Bros. capacitor,
Peebles rock stand + crystal, or a diode.
The antenna-ground is connected at the top terminal block and the audio comes out the bottom terminal block.
It works pretty good by itself with a piezo earpiece. But it really perks-up when some bells & whistles are added. Like an antenna coupling capacitor, and/or a Bogen+Benny at the output, and/or a sensitive headset, and/or a loose coupled antenna tuner, etc., etc.. It's kind of fun to fiddle around with it.
A problem I've always had is DUST. I'm banished to the basement for crystal set work and the sets seem to accumulate a thick coating of dust in short order if they're not covered-up. But I wanted this little setup to be out in the open so the grandkids could see it & maybe increase their interest in radio. (It's hard to compete with video games!)
I found some $1.50 clear plastic storage boxes - with lids - at Bed Bath & Beyond that make nice dust covers. The radios' wooden base is screwed to the inside of the lid and the box part then sits on top. No dust on the parts and you can see the inner workings through the plastic.
The inside clearance is almost 4" so there's plenty of room in there - especially if ferrite-assisted coils are used.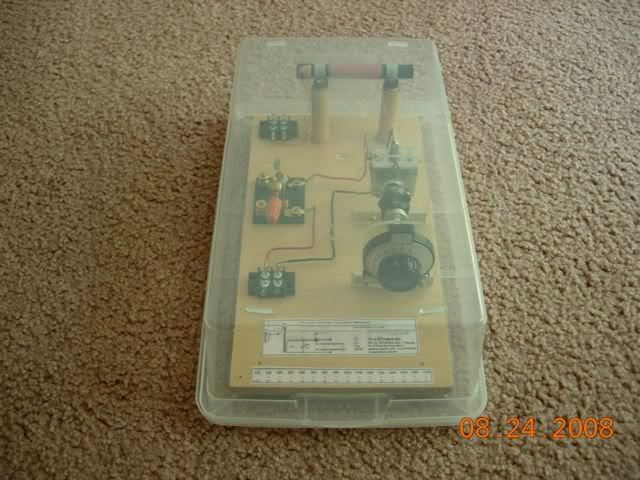 Not elegant, but it works.
73, Dan