While looking around the internet at tube radio circuits that can run on 12 volts I came across this one:
It got me to realize that this little tube (about the size of a 50C5) can be used in most '1D8' circuits, can use just one 12 volt power source, and it is fairly cheap, too:
http://www.tubedepot.com/nos-14gw8.html
One example of a 1D8 circuit that the 14GW8/PCL86 can be used in is this: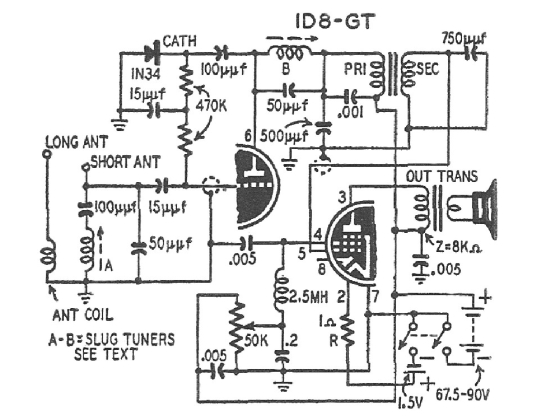 In this case, both 14GW8 cathodes can be connected to ground. One reason that I picked this one is that it uses an external semiconductor diode, rather than the diode that is built into the 1D8. It's a nice circuit for a 14GW8 that does not have an internal diode section. Daves 1D8 circuit will work nicely, as will many others. Just remember, if you pick a circuit that uses the 1D8's internal diode, you will have to use an external diode instead, if you use a 14GW8 in place of the 1D8.
Norman
KA1GUK