Switching to this thread (since the subject is not Clapp specific). This is a continuation of this thread:
http://theradioboard.com/rb/viewtopic.php?t=4472
and the original thread on tube branch related to hybrid feedback regens:
http://theradioboard.com/rb/viewtopic.php?t=3714
I have put up two circuits illustrating a minimalistic jfet regen using the hybrid feedback. The second one adds a Vackar divider and is more suitable for SW use. Please note - I have not verified these as drawn although they are relatively close to what I used for testing (also see comments below on the gate voltage regen control):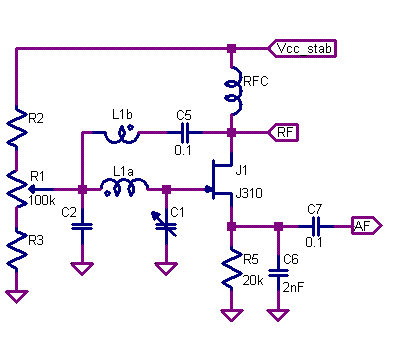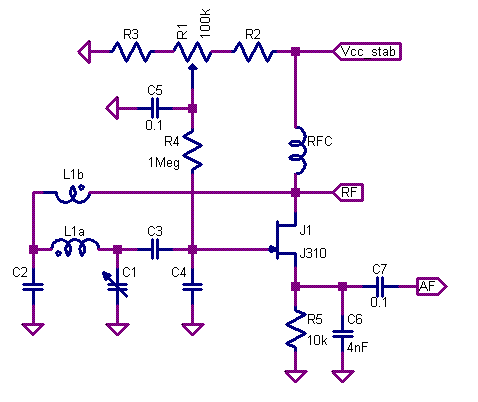 qrp-gaijin wrote:
How would one calculate the appropriate capacitive divider values and ratio?
I start at 1:3 ratio and adjust experimentally. The main purpose of the Vackar divider is balancing disturbances introduced by the jfet gate and drain. The secondary purpose is an additional mean of the loop gain control.
qrp-gaijin wrote:
In terms of device operating point and frequency shift with regeneration is there any difference to raising the gate potential as opposed to lowering the source potential?
There are three subtle differences:
- oscillation amplitude is better controlled with positive bias at the gate/grid (I mentioned that before somewhere in the tube section);
- the RC time constant shaping AF bandwidth is fixed;
- (possible) simulation shows that there is some compensatory effect of simultaneously increasing Ids and decreasing Vgd reducing frequency shift, not sure it is simulation artifact or real effect, testing is needed.
qrp-gaijin wrote:
I don't quite folllow how "adding a series control element will increase drain signal amplitude." Could you elaborate?
jfet has a relatively high output impedance that drives a relatively low impedance feedback network, hence the signal amplitude at the drain is small. If you increase the load impedance by inserting a series element in the drain circuit the amplitude at the drain will increase.
qrp-gaijin wrote:
Now if only there were some way to get a handle on those higher order terms (you seem to have little trouble with them, but K3NHI did).
Look, we went over this several times in other threads
. Let me summarize:
- I have tested the method on two very distinct circuits and got over a magnitude improvement compared to conventional feedback by removing the linear term alone. I documented this to the best of my abilities - check the graphs on pg23 and pg25 of my main report, these are actual measurements;
- the remaining higher order terms are hard to predict because they depend on complex physical phenomena in the resonant circuit that determine it's Q(f);
- no I do not know how to remove the remaining terms;
- I do not find them objectionable in practical use, take a look at videos that I made;
- there is always room for improvement
in any design...